Below is a list of information regarding our trip.
You will find info on when and where to meet, emergency information, how to pack, what to take, and much more.
Please go over this information with your parents. Call or email me if you have any further questions.
Day of Departure Information
Tuesday June 9th
Norwegian Flight
You should plan to arrive at the Oakland airport 2 hours before our departure time
I will be at the Norwegian check in desk waiting to greet you and your parents. You will then check in and meet Ms. Willow at the gate. Once we are all checked in I will make my way to the gate.
Day of return
Our last day as a group will be Saturday June20th.
For those returning the group flight is - Norwegian Flight - Information to Follow
Itinerary
Rome - June 9-13
Assisi -June 13-15
Siena -June 15-17
Florence- June 17-20
Return to Rome for return flight to Oakland
Contact Information
Mr. Romo (916) 505-5753 aromo@stfrancishs.org
Ms. Willow (916) 502-3128 rwillow@stfrancishs.org
expectations - safety - responsibility
Important - my colleagues and I will have an honest discussion with the students about our expectations, safety and their responsibilities as visitors to another country. Parents please take time to discuss your expectations for your daughters while they are traveling in italy.
Passport
Double check your passport and make sure it is valid- TO BE VALID THE PASSPORT MUST BE VALID MORE THAN 6 MONTHS AFTER YOUR RETURN DATE.
Double check you have it before you leave your house for the airport.
Make copies (physical and electronic) of your passport and leave a copy with your parents. Bring 3 copies with you on the trip.
I like to purchase a travel neck bag to keep my passport safe while I'm in the airport and getting to our hotel. You'd be surprised how easy it is to misplace your passport as we move from one place to the other.

Money?
How Much? One of the big questions parents have is how much money the students need on a daily basis. Keeping in mind that the trip covers breakfast, half of the dinners and half of the lunches. All museums and transportation are covered as well. So most students do fine with 25 euro a day. That should be more than plenty to cover any food\purchase items. But each person is different and what they need will differ - expectations for souvenirs, number of cappuccinos, gelato consumption, etc.
Credit Cards, Debit Cards or Cash? There is no need to get euros before we leave. I will show the students where to get cash once we settle into Rome on the first day. Debit cards with a pin are the best way to access money while in Italy - there are banks at every corner with good rates and it will keep us from having to carry wads of cash. Credit Cards are good as a back up or to purchase more expensive souvenirs\purchases.
IMPORTANT - Notify your debit\credit card company that your daughter will be traveling to Italy. If it is a new card please use it several times in the Unites States prior to leaving. Also please have a conversation with your daughter regarding how much she is able to spend while in Italy - remember this is the land of Gucci, Giorgio Armani and Versace
Cellphones
Check with your cellphone provider for the best rate plans for traveling in Italy. Each one is a bit different. Also be sure to download WhatsApp or Viber to be able to make free calls\texts while connected to the hotel internet.
what to pack?
Why is this called a backpacking trip? Because the bigger your suitcase, the more you will put into it: The simplest way to avoid bringing too many things is to travel with a backpack. What you bring is what you carry. Believe me when I say that I have never heard a former student say "Mr. Romo this was a trip of a lifetime….. but I wish I brought more clothes and shoes".
Make sure you have a backpack that is comfortable to carry all of your clothing and travel items.
clothes
Do the clothing countdown: If you need a mantra to help streamline your wardrobe, use the 5, 4, 3, 2, 1 rule for: Limit yourself to no more than five sets of socks and underwear, four tops, three bottoms, two pairs of shoes and one light warm layer. The list should be adjusted to suit your needs - I'm sure you wall to throw in some summer dress.
Remember - Long skirt and shawl for entering into churches.
A hat and sun glasses to help protect you from the Italian sun.
Key to Comfort - Comfortable walking shoes - no flip flops. (more on shoes below)
toiletries
I suggest minimizing your toiletries since liquids are heavy and you can purchase anything you need once in Europe. That said, here is a list of things you might want:
Shampoo/Conditioner/Body Wash: Pour liquids into these small travel-sized bottles because they won't leak.
Toothpaste & Toothbrush
Deodorant
Chapstick w/Sunscreen: Protect your lips
Makeup: Bring the basics because it is easy to go overboard (which will weight down your bag).
Body Powder: A lot of walking can equal chafing — especially in hot weather. Baby powder is great for those hot days.
Prescription Drugs: Ensure you have enough medicine to cover your trip since getting refills can be difficult.
Ziploc bags come in handy for storing multiple things and keeping liquids from spilling over all your stuff
Lay out what you think you'll need, then edit ruthlessly: Think twice about everything you want to put in your bag, Fully get rid of the 'just in case I need it' category. And if and when you need it, you can buy it.
Once you've packed, try walking around your neighborhood with it. Too heavy? Get rid of the kitchen sink!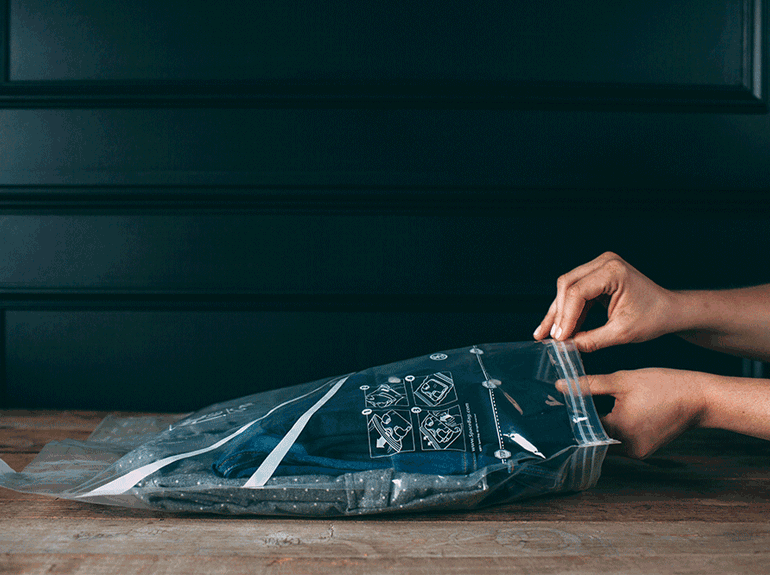 Life gets a little more complicated when you're living out of a bag - organizing is key! Behold the magical packing cubes or large zip lock bags.
They may not look like much but these simple travel accessories will make packing so much easier.
The idea behind packing cubes\zip lock bags is simple — you divide your clothing up between different cubes\bags (socks in one cube, underwear in another cube, etc.). This keeps all your clothes compressed and organized.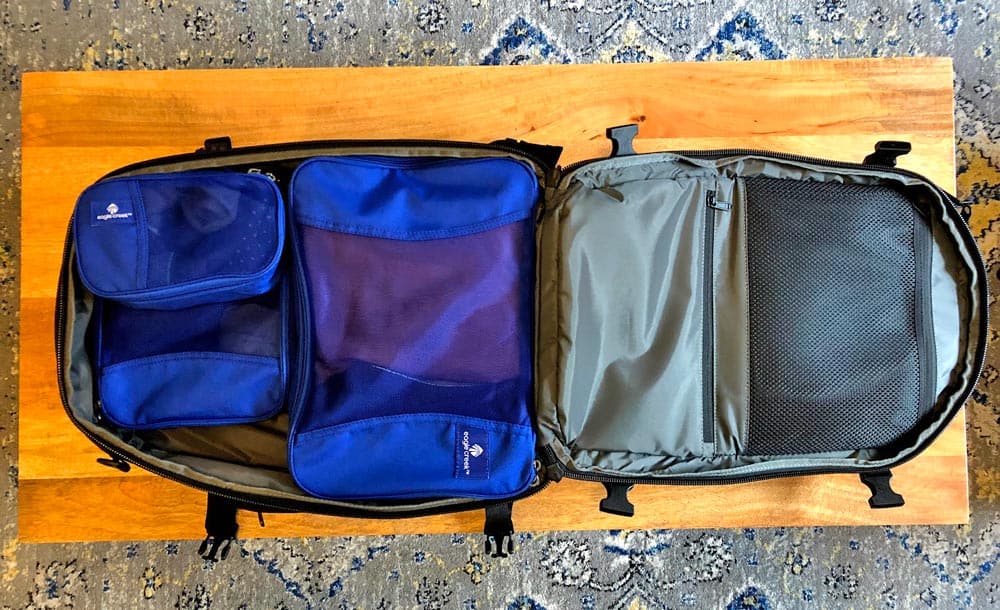 This way you can quickly grab what you need. And these make repacking all your stuff easy as well since you know where everything goes.
As an added bonus, packing cubes can also help reduce wrinkles by preventing your clothing from shifting around in your bag.
Avoid this type of packing - leads to frustration and loosing things.
Try rolling your clothes into the cube or zip bags to maximize space and help keep your clothes wrinkle free.
Shoes made for walking….and that's just what they'll do
Even if you ignore everything else on this packing list, the one thing you need when traveling Europe is a comfortable pair of shoes. Trust us — you're going to be on your feet way more than usual and your feet are going to take a beating. That's why you should put comfort over fashion — luckily there are plenty of fashionable and comfortable shoes on the market. So let's look at a few tips for ensuring your feet stay happy.
Comfort Is key
If new, break them in for at least 2 weeks prior to leaving
Two Pairs Max - one pair of sneakers and a pair of flats or sandals
Remember Italy has cobblestone streets - High heels don't work!
Electronics
IMPORTANT: North America and Europe use different voltages (120v vs 220v) for their electronics. So what does that mean for you? For high-end electronics like phones, cameras, laptops, iPads, etc… it doesn't matter. All you need is a plug adaptor because these electronics are all designed to work at multiple voltages. However, electronics with heating elements ands motors like hair dryers, curlers, straightening irons, hair clippers, etc. aren't designed for multiple voltages so they'll fry if you use them in Europe.
Additional items - But not necessary
ZIPLOC BAGS (MULTIPLE SIZES)
Plastic bags are a great way to store your dirty or wet socks/underwear so they don't get mixed with your clean clothes. I'll also put any liquids in a sealable bag in case of a leak. The large 3 gallon bags are nice for storing shoes so you don't get your clothes dirty.
COLLAPSIBLE WATER BOTTLE
Stay hydrated with a water bottle. A flexible water bottle is a great choice because it's light weight and can be rolled up when empty. And it is great for the environment.